The Reformer is an original piece of Pilates apparatus that uses springs and a pulley system to create variable resistance and challenge. One of the great many things we love about this apparatus is that it is a supportive and accessible machine, capable of working every type of body, ability and goal. It is a highly effective and efficient way to exercise.
At The Studio Perth (TSP), we have Reformer Pilates machines at the Butler and East Vic Park locations. The machines are smooth, intuitive and a joy to use (and teach on)! The challenge we can create with a Reformer, not just within the Reformer repertoire itself, but also with creative variation on exercises, or by incorporating props to deliver creative and dynamic movement experiences that also check the boxes on performance and conditioning goals!
The benefits of Reformer Pilates are many, including:
A whole-body workout!

We are not strengthening one part of the body at the detriment of another.

Reformer Pilates is a comprehensive and complete workout so you enjoy a body-balanced, truly functional result.

Improved mobility.

Enhanced flexibility.

Accessible to all ages and capabilities.

Better postural awareness and optimisation.

Sustained calorie burn, especially in cardio formats (hello, Jumpboard!)

Deep intrinsic activation and strengthening, so you get strong, quite literally from the inside-out.

It is a great addition to a cross-training regimen for all of the above reasons!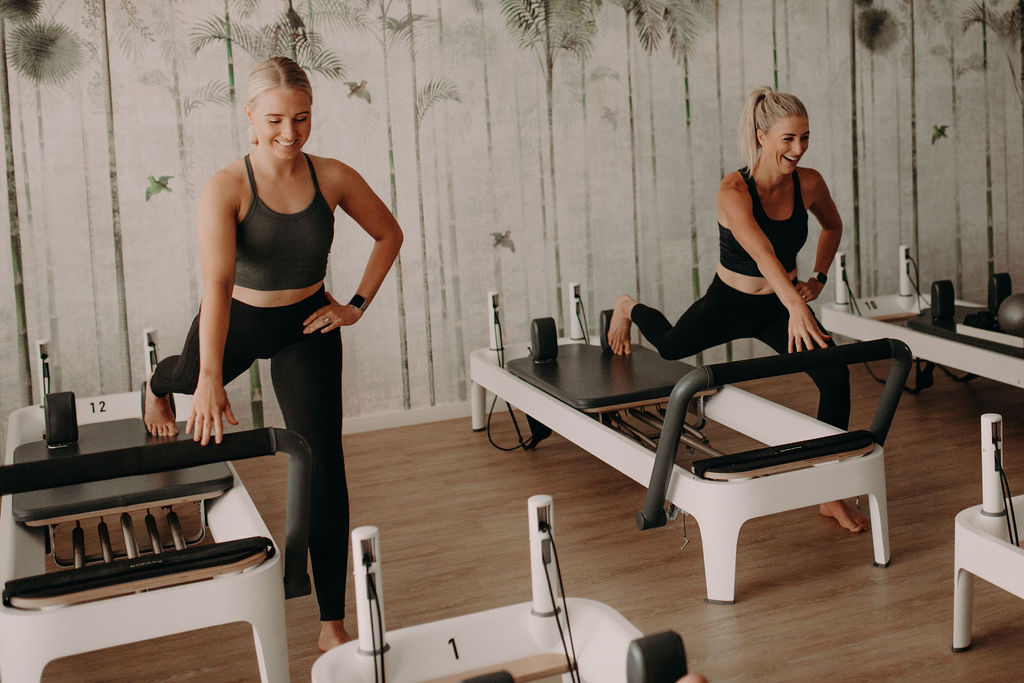 It is not uncommon for newbies to feel intimidated when faced by the hardware, but you should be rest assured that with correct and safe instruction the apparatus is easy to use and legitimately accessible for all fitness levels. There is nothing to fear! All TSP Reformer formats are open to beginners and our Teachers are on hand to help you become familiar with the machine and build a solid foundation upon which to progress your practice!
Get to know our classes below:
Power Reformer
Strong and dynamic, this class is designed, as the name suggests, for power! Strengthen and tone your entire body over 50-minutes. Deep core activation, strengthen and sculpt, and enhance your flexibility and postural awareness in the process. Power Reformer is open to all levels!
Jumpboard Reformer
Reformer Pilates with plyometric and cardio layers. It is an unapologetically strong and efficient workout. With the Jumpboard attachment we can level-up on form, control, challenge, body awareness and deep core activation for 45-minutes of high impact pure work. Props, solid tunes and a whole lot of fun will keep you entertained while you work. Endorphins and sweat guaranteed.
Visit The Studio Perth, find your location, and book a Reformer class today!
Check the schedule for East Victoria Park here.